Would you like to have a new kitchen? One where you can cook or eat well, but also love to live? Entrust us with the implementation and allow us to transform your ideas into reality. With us, you gain a reliable partner who will fine-tune your new kitchen to the last detail.
Why should we make your kitchen?
We can speak your language
and break down all the language barriers that separate you from your new kitchen (our designers speak English, Italian and Russian).
We provide you with full service,
starting from the first designs through construction preparations and precise alignment to the installation of the last screw.
We offer high-quality products
we believe in and use regularly. More than 6,000 clients are already using our kitchens.
We can make all kinds of kitchens
(various colours and shapes). Come and see for yourself in our showroom.
How will our cooperation proceed?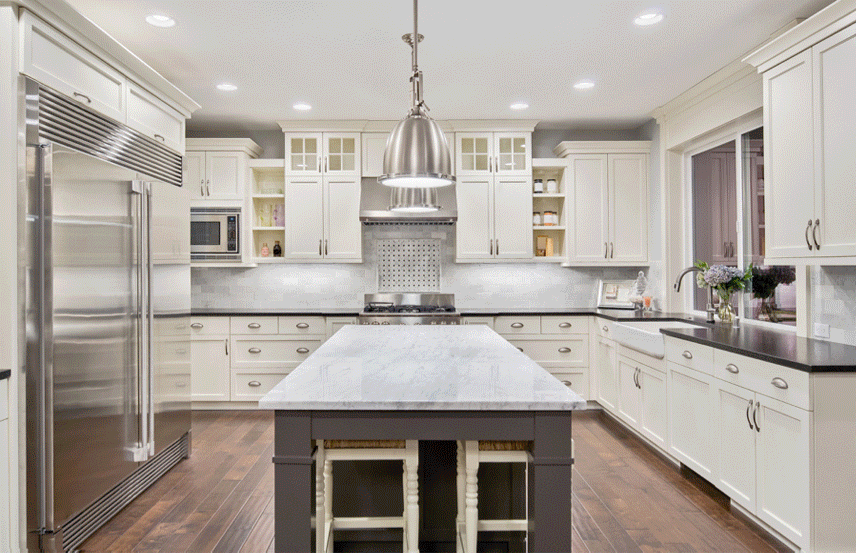 Inspiration
We will show you our realisations
Sometimes, you have a clear idea from the very first moment, other times, you need a lot of inspiration. We can make finding your kitchen and subsequent consultations with a designer as easier for you as possible. It's good to have a general idea of what you like and what you don't want to incorporate in your kitchen. Thus, it's easier to proceed in the right direction. Have a look at our realisations and find your style. The site is in the Czech language; however, the photos can show you more than words.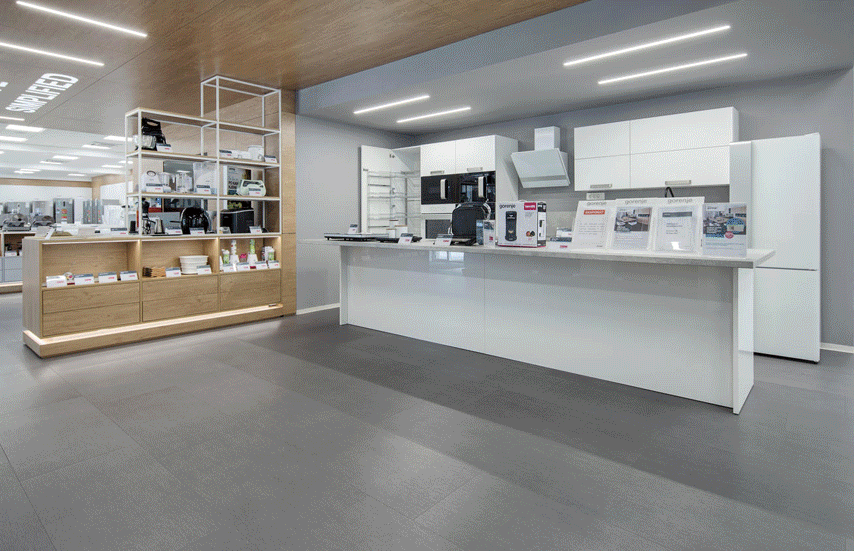 Visit our showroom
Come and see our kitchens
Have you started to shape your ideas more precisely? Or did the demonstrations of realisations help you? Not quite? Do not throw in the catalogues yet... Your first visit to our showroom can take you one step closer to your dream kitchen. Have a look into the future and get a more realistic idea of how your home might look like. In the showroom, you can see all the materials and the exhibited kitchens; try opening the cabinets, distribution of the appliances or the structure and height of the countertop. This is the only way how to find out if your kitchen is not too dark, light, shiny, prone to damage or constantly covered with (not only) children's fingerprints.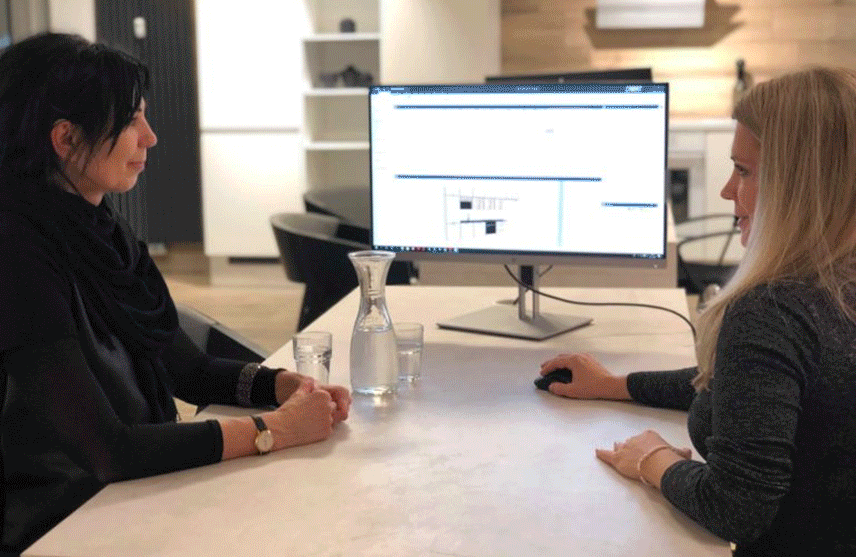 Consultations with the designer
Your ideas and visions will take on a concrete form
When visiting our showroom, our designer takes care of you. By doing so, the designer gets acquainted with your ideas and requirements, as well as the layout of your home or the intended budget. Based on this information, we can design the kitchen that would fit your ideas. With our designer, you can be sure that you have spent your funds in the best way and that each appliance and cabinet is placed in harmony with space.
3D designs
We will show you how your home will look like
Now, we have all the necessary documentation and know your wishes… Therefore, nothing can prevent us from launching the design preparation. At this stage, the first tangible form of your kitchen begins to emerge. By using 3D designs and visualisations, we can provide you with a clear concept of the final form of the kitchen. Now, you know exactly how the selected decors fit your flooring, whether the kitchen island fits comfortably or if the dining table is big enough. Once we present you with the designs, we can start making all possible changes. The goal is to meet your expectations and finalise the design. Until your approval, the design is entirely non-binding.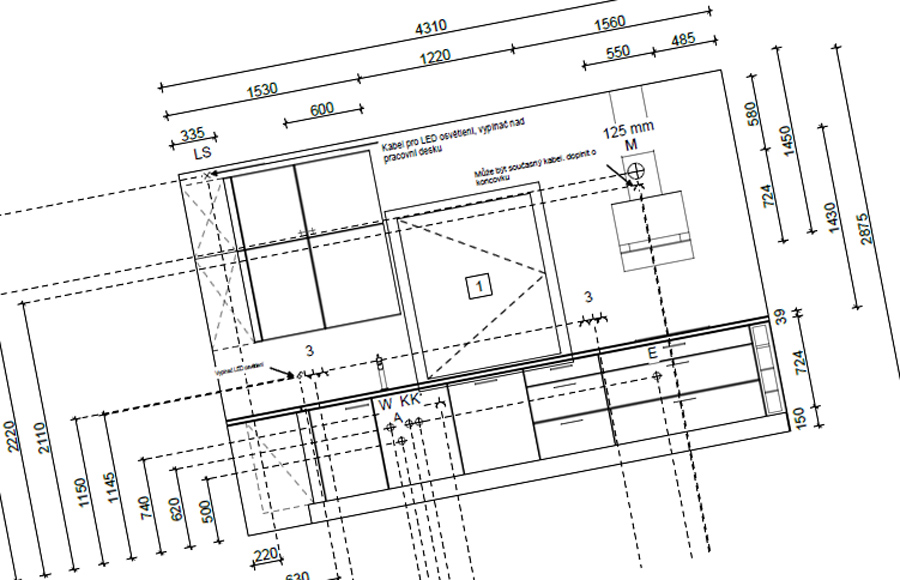 Taking measurements
We measure and align the kitchen and prepare installation recommendations
We are moving steadily towards realisation. First, you approve the designs; subsequently, we carefully measure the space where your kitchen will be installed. Everything has to be checked and the last details fine-tuned so that each screw fits in place. We prepare installation recommendations to be used by plumbers and electricians. We can also easily take care of the construction modifications and preparation works for the kitchen. We can simply take care of everything. Thus, you can focus on other matters in peace and look forward to your new kitchen.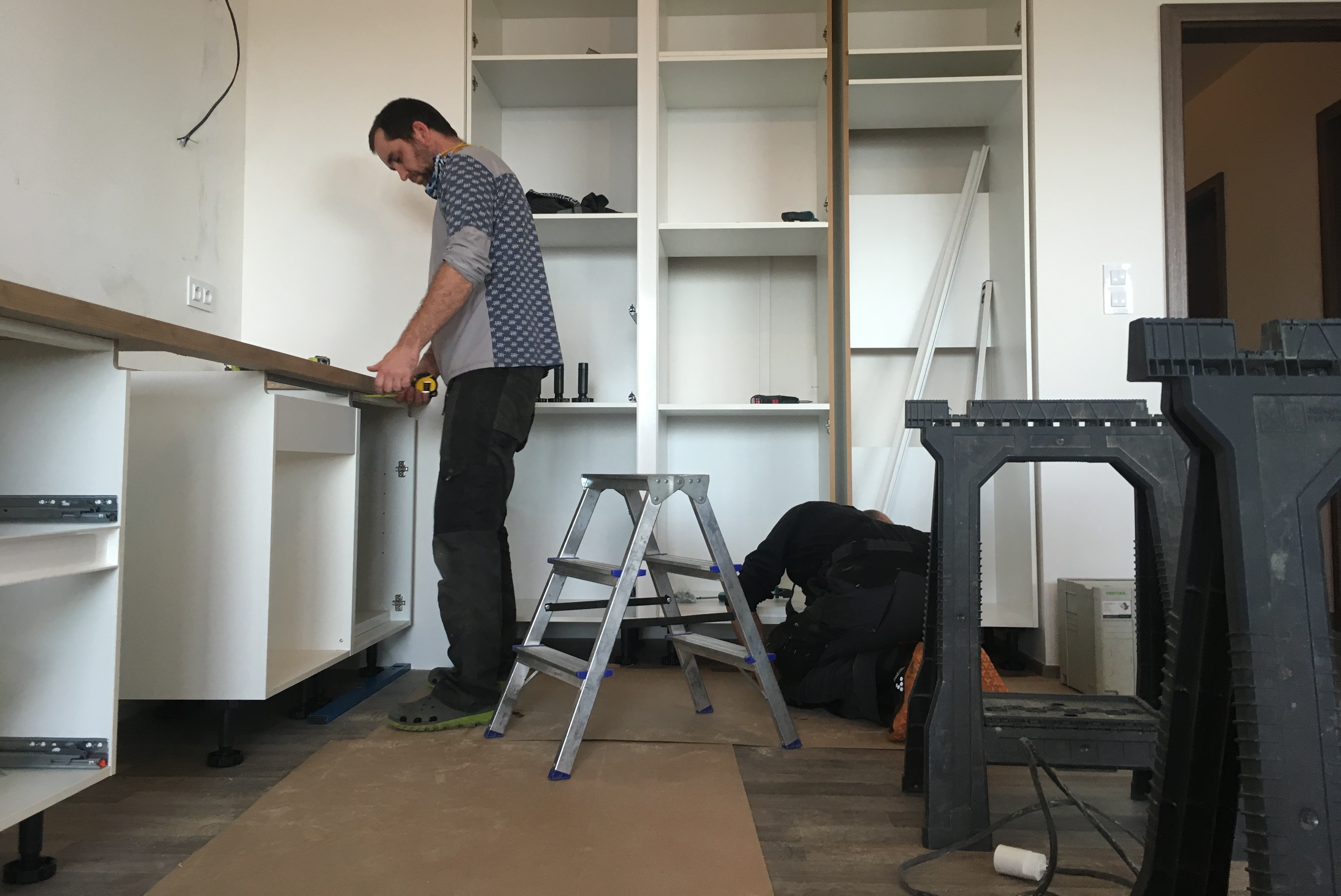 Installation
We transform your kitchen beyond recognition
In 8-10 weeks, we will have your tailor-made kitchen ready and can start its assembly. Our great installer teams come to your place and install the kitchen without any problems – easy peasy. They have convinced us many times that they work miracles on demand. Even crooked walls or other intrigues that often lurk (not only) in older houses can stop them. Equipped with the necessary tools, rich experience and diligence, they will install your brand new kitchen in 1-2 days. The time spent on the installation depends on the size of the kitchen and the complexity of the installation.
A few words about us
We believe that the environment we live in directly affects our mental well-being. That's why we look for the right balance between functionality and aesthetics when we manufacture kitchens. We want to produce kitchens that are a place for food preparation, as well as space where everyday life takes place.
We are Gorenje's most significant partner for kitchen production in the Czech Republic. We are a stable brand equipped with facilities and a long history that can guarantee quality and first-class services, which are the cornerstones of our customer policy. More than 6,000 clients have already entrusted us to design, manufacture and install their kitchens. We will be delighted if the next kitchen is yours. Let us know about your wishes, and together, we will come up with the best course of action.
Come see us
Take the next step towards your dream kitchen and book an appointment date in one of our showrooms.
Nezávazný návrh
včetně cenové kalkulace
Kuchyně na míru
za 7-10 týdnů u vás
Instalační plány
pro stavbu a developera